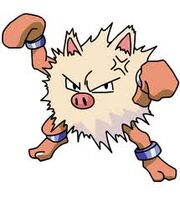 Jack's Primeape is the first Pokèmon that
Jack
ever had. It first appeared in
AD02
 as a Primeape, though was later revealed to have been acquired by Jack in the Mankey stage.
Primeape was stated to be a 'Pokemon version' of Jack by the narrator in AD02.  Given Jack's extremely short temper, this is not an incorrect assessment.  Indeed, Primeape and Jack's similarities are part of why they get along so well.
Primeape has remained on Jack's team for the majority of the books.
Ad blocker interference detected!
Wikia is a free-to-use site that makes money from advertising. We have a modified experience for viewers using ad blockers

Wikia is not accessible if you've made further modifications. Remove the custom ad blocker rule(s) and the page will load as expected.