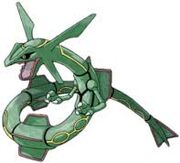 Rayquaza
is a Dragon/Flying-type legendary Pokémon.
Description
Edit
Rayquaza is serpentine in appearance, sporting a long, thin green body. It possesses a pair of short arms tipped with sharp claws, and its constantly open mouth is lined with sharp teeth.
In the story
Edit
Main article: Jack's Rayquaza
Jack, the protagonist of The Adventure of Adventureness, owns a Shiny Rayquaza.